The #3 Rated Omega3 Product: Purity Products
Purity Products - #3
Omega3 Product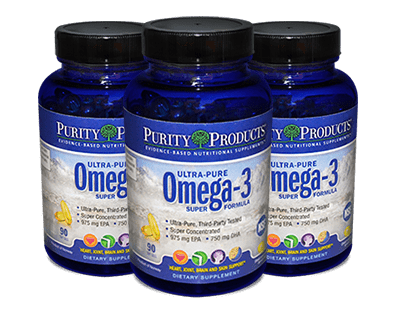 Supplement Facts
Servings Size: 1 Soft Gel
Servings Per Container: 60
Amount Per Serving
%DV
Calories (energy)
10
Calories from Fat
10
Total Fat
1g
2%*
Polyunsaturated Fat
1.0g
†
Cholesterol
Less than 5mg
<2%*
Vitamin D3 (Cholecalciferol)
500IU
125%
Omega-3 Fatty Acids
450mg
†
EPA (Eicosapentaenoic acid)
†
DHA (Docosahexaenoic acid)
155mg
†
Other Omega-3s
80mg
†
Phytosterols
400mg
†
CoEnzyme Q10
25mg
†
* Percent daily values are based on a 2000 calorie diet.
† Daily value not established.
Other Ingredients: Highly refined and concentrated Omega-3 marine oil (sardines, herring, anchovies), phytosterol complex (beta-sitosterol, campesterol, stigmasterol and other sterols), gelatin, glycerin, purified water, beeswax, coenzyme Q10, lecithin (soy), natural lemon/lime flavor, titanium dioxide (natural color), caramel (natural color), cholecalciferol, rosemary extract, ascorbyl palmitate and natural tocopherols (soy).
Purity Products Is a good product with a good informative website. While they include good marine based sources of Omega 3 fatty acids, they also include added fillers.
EDITOR'S RATING
31 User Reviews
Introduction
This following review is for Purity Products Ultra Pure Omega-3. This product claims to support healthy heart and cardiovascular function, promote brain health, joint function and normal flexibility. As you read on, you will gather more information about this product.
Ingredients
The ingredients included in this product are:
EPA
DHA
Other unspecified Omega-3 Fatty Acids
Other ingredients: Omega-3 fish oil (anchovy, sardine and mackerel), gelatin, glycerin, purified water, natural lemon flavor, proprietary antioxidant blend (rosemary extract, ascorbyl palmitate and natural tocopherols), soy.
Dosage
The manufacturer advises taking 2 softgels daily with a meal or as directed by a doctor.
Possible Side Effects
There are no listed side effects by the manufacturer. However, this product contains soy and gelatin, which might cause allergic reactions in some consumers.
Price
The price of Purity Products Ultra Pure Omega-3 is $46.95 for 1 bottle with $6.95 for shipping, extra. If you buy 4 bottles at the retail price you can get 1 free. You can also sign-up to their Super Saver automatic delivery program which saves you 20%.
Guarantee
This omega-3 supplement from Purity Products comes backed with a money back guarantee. The buyer can return items within 60 days of purchase. Shipping charges are not refundable. For bulk orders of 12 or more bottles a 15% processing fee if returned (unopened) is charged. Returns without a valid return authorization are subject to a $10.00 processing fee. Consumer reviews on third party sellers were mixed.
Conclusion
This product has a few positives in its favor. It is manufactured in USA and complies with GMP. Their manufacturing facilities are also third party certified. According to the manufacturer, their products are not compromised by GMOs. We also liked that it is gluten-free, however we were concerned that the potency of the EPA and DHA is less than what is recommended in clinical studies and less than our #1 Pick. We also did not like that the money back guarantee is tied to some additional charges to the consumer.
Click here to learn more about our Top Omega-3 Products.
Richard Stewart
reviewed on and gave it a rating of
3
.