The #5 Rated Omega3 Product: Nature Made
Nature Made - #5
Omega3 Product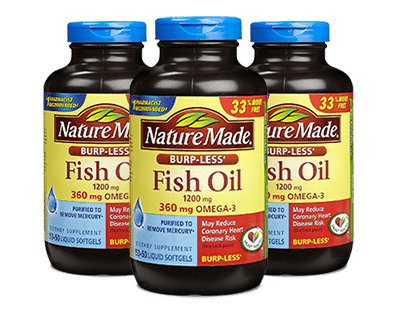 Supplement Facts
Servings Size: 1 Soft Gel
Amount Per Serving
%DV
Calories
15
Calories from Fat
15
Total Fat
1g
2%**
Polyunsaturated Fat
1g
Vitamin E
4IU
13%
Total Omega-3s ††
434mg
*
Total Omega-6
276mg
*
Total Omega-9
170mg
*
* Daily Value not established.
** Percent Daily Values are based on a 2,000 calorie diet.
Nature Made Fish Oil 1,000 mg is actually a quite popular product because it is easy to obtain over-the-counter in most drug stores. While this is a popular product, the amount of Omega 3 is much lower than our #1 Product.
EDITOR'S RATING
24 User Reviews
Introduction
This article is a review of Nature Made Omega-3 Fish Oil. This product is a fish oil concentrate, based on the reputable EPA and DHA omega-3 fatty acids, known to prevent coronary heart disease. It is very important to see how much of these omega-3 fatty acids is included in this formula, because there are some basic guidelines regarding the recommended daily dosage. While omega-3 fatty acids may be available from eating fish, since farm raised fish is often contaminated with pollutants, cleaner sources are recommended. Nature Made Omega-3 Fish Oil is obtained from pharmaceutical grade fish oil, and the manufacturer seems to comply with the highest standards for quality and purity. Learn more from our review.
Ingredients
The ingredients used in this product are:
Other omega 3 fatty acids
It is a good thing that the most important omega-3 fatty acids are available in this formula. However, we see that the amount per serving for each of them is lower than the recommended daily intake.
Dosage
The recommended dosage for Nature Made Omega-3 Fish Oil is two softgels daily, taken with meals.
Possible Side Effects
Possible side effects may occur if you are taking:
Blood thinning medication (e.g. Warfarin and Coumadin)
Nonsteroidal anti-inflammatory drugs (e.g. ibuprofen and aspirin)
Blood pressure medication
Caution: If you are pregnant or nursing, taking medication, facing surgery, have bleeding problems, or undergoing any other treatment which may affect the ability of blood to clot, consult your physician before taking this product.
Price
This product costs $25.95 for a bottle. It is not available for purchase on its website. On Amazon, there is a 5% discount if you subscribe to their services.
Guarantee
Nature Made offers a 100% satisfaction guarantee for their products. This means they backup their claims of quality with a guarantee. If the customer is not satisfied, it can be returned to where it was purchased from within a 100 day period. However, we are not sure if this offer extends to their omega-3 line of products because they were not listed in the refund terms. The reviews are more positive than negative with most consumers stating that they were extremely happy with this product. However, some complained about burping a fishy aftertaste after consuming this product.
Conclusion
Nature Made Omega-3 Fish Oil seems to be a good product, since it enjoys quite a lot of positive reviews from users. However, we cannot overlook the fact that there is too little EPA and DHA in each serving, and since the manufacturer recommends taking only two softgels daily, you should not try getting more of the necessary omega-3 fatty acids by taking more every day. In addition, there is no clear money back guarantee for this product.
Click here to learn more about our Top Omega-3 Products.
Richard Stewart
reviewed on and gave it a rating of
3
.